One of the reasons I chose to have a homebirth was because I wanted a sacred birth space and I didn't feel it was possible to create that experience in a hospital. I believe that creating a sacred birth space is one of the fundamental elements of manifesting your intention for a wonderful birth. It is important for a woman to feel safe and held in a loving environment in order to birth in love. I feel that a major part of creating this is choosing to birth at home. Where you have already done the work filling the space with your energy. Without a vision of the end result of the birth we truly want. We can never achieve that which we truly desire. The sacred experience of birth should be honoured with a venue that is prepared in a manner that reflects its divine nature.
My situation became challenging when I was told by each of the midwives I was referred to that I live far away for them to travel. We moved to the Seal Rocks area 2 months into my pregnancy and I felt like I had landed in a black hole as far as a homebirth community went! After speaking to almost 10 different midwives and spending months searching for a solution, I was beginning to feel like my dream of a homebirth was becoming impossible.
About 5 months into my pregnancy I was soaking in the bath and decided to call a dear friend. She said "Lizzy, what do you really want? This is your birth and you can have exactly what you would love. Just got for it!" In that moment I realised I had attended her birth with Betty Vella as her midwife and I really want Betty as my midwife but she is in Sydney, 4 hours away! She told me not to worry about logistics, just to call Betty! So I did, and we began the process of finding a way to have her as our midwife. We eventually decided to ask my partner David's parents if we could use their apartment in Milson's Point to have our baby in! It was wonderful that they were so generous in saying yes, but it was far away from my vision of being snuggled up in our beautiful country home, walking through the forest during labour! This choice involved a lot of driving back to Sydney for visits with Betty, then moving there for the final month to birth our baby. It also meant being up on the 14th floor in a city apartment far away from the earthy experience I was hoping for. Then having to pack up and make our way home 4 hours drive north once our baby girl had been born. It was an interesting decision but we felt like it was right.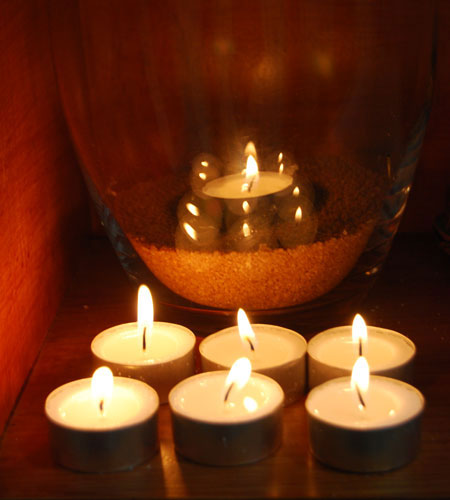 As the day or birth grew closer I began to think about the incredible task of packing. Oh my… what docs one need when you are off to birth your first baby and recreate the sanctuary of your own home in a small city apartment? I had never done that before!! Being very much about creating sacred space with my many alters and sacred items around the house, it became my mission to find a way to take this energy with me.
I packed everything but the kitchen sink! Crystal lamps, statues, Tibetan Wall hangings, blankets, crystals and the list goes on, David kept saying, what is all this stuff? My answer was… I am going for my dream, a sacred birthing space. So the day came for me to pack the car and leave our home to go have our homebirth! It felt kind of strange and I experienced every emotion possible as I drove away with a car full of stuff… sacred stuff that is! I felt like a pregnant snail, carrying my home on my back and my baby in my belly. I waved goodbye to the magnificent trees and the beautiful lake. I decided to take the spirit of the land with me as I drove away into the unknown.
I left a few days before David, as his sister had organised my Blessingway for that weekend. I arrived to the apartment and slowly dragged everything up to level 14 and unpacked. I fell onto the bed in tears; I had made it… after all of the doubts along the way, I felt I was one step away from creating my birthing nest. It was good to arrive and settle in. I felt relaxed in knowing that I was there just in case my baby decided to come early. I was overwhelmed as I held my hands on my belly and spoke to the little girl within me. I told her we had arrived and that I was now creating the space we needed to feel held and supported in her journey to join us earth side. I fell into a deep sleep and had very powerful dreams.