Personal Use Birth Pools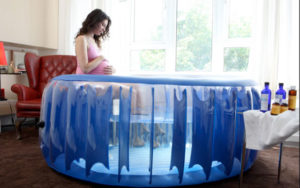 The design of PBB's personal use birth pools takes into consideration your convenience and safety. In addition, we offer a wide range of quality products to make your water birth a beautiful experience.
Have your home waterbirth in our renowned La Bassine Maxi Birth Pool. This premium birth pool can comfortably accommodate two people. There are two grab handles at the top of the pool for ease of access. In addition, there are four more handles on the inside, ideally placed for added comfort – where you need them. As a result, there are no unnecessary built-in obstacles inside the pool. It also gives the extra comfort needed during active birth positions such as kneeling and squatting.
One of PBB's original personal use birth pools is the La Bassine Regular Birth Pool, designed by a mum to create an intimate and soothing birth environment like no other. Combining style, comfort and privacy with optimum compliance, the La Bassine Regular Birth Pool has become a worldwide best-selling birthing pool.
In PBB's budget birth pool range, we have the ocean reef birth pool. This birth pool comes with a three-ring design with soft, see-through walls, sturdy sidewalls and an inflatable floor providing extra cushioning.
The aquarium birth pool has a similar design to the ocean reef birth pool. It is the most economical option for use in labour, especially if space is at a premium.
You can purchase liners for our La Bassine Birth Pool range. A liner makes cleaning up a lot easier and provides a barrier between the water and the pool, just in case it is damaged during use.
Personal Use Birth Pools