Jacqui did a session two days before I went into labour with lots of cupping and extra moxa. After I left, the strangest feeling came over me. I knew that this was the beginning of labour and I needed to go home, rest and nest!
The next evening, with mild contractions I ventured out to the Aboriginal Tea Tree Lakes with my partner Don und my good friend Liz… the same place that I had gone to 11 years ago in labour with my first son at 34 weeks pregnant . I needed to be in the soothing energy of those red still waters and beneath the whisper of trees, the smell of ocean drifting from afar and the sands of time beneath my feet, connecting me to Earth Mother. I leant against the tea trees for support and nourishment, feeling the softness of bark on my palms and rotated my hips gently with each contraction, feeling my baby, talking to it quietly. Don took pictures of me as Liz watched with that serene smile of knowing, no words. just presence. We played at the lake as the sun set and birds fluttered. Ahhh natural birth, in nature!
Coming home, Liz and I did a thorough clean of the house and the words of Sheila Kitzinger echoed "Women nest at home then go to a hospital and have their baby!'" Never made sense to me either!!
That night I lay in bed feeling my uterus contract through my quiet slumber. Here I was at it again, about to have this amazing life-affirming experience, in my own bed, my own home … with an awareness like never before!
I rose at 6:30am and thought "Yes this it it. Today is the day!"
Don and I looked at each other. "It's happening Don." I said. "Are you sure?" "Yes!" We hugged as I called Jayne, my midwife. She arrived around 7:30am. Such a blessing, such an Angel Mother to me, so calm and joyous. I rang my photographer Katerina and friend Liz.
Everyone arrived – my circle of comfort and support, my beautiful sisters. The day was still, no wind, overcast but fine. "The BEST conditions for birthing!" I thought. "God has covered me with a fine silk-like protection, but given me enough light to guide my way." The cows roamed the paddock as I roamed the garden. Contractions came and went. On the birth ball with pelvis wide I rocked and rolled, danced and stretched, relaxing into this sacred birthing. Don went about fixing the pool and organising the house, I walked around, smiling and laughing as we spoke about how we all felt immersed in this energy of birthing, this blessed moment of Life. It all felt normal, peaceful.
I walked outside into the garden and called Don to be with me. I leant against his strong chest and quietly moaned , opening my legs into a wide stance, circling and opening my pelvis, connecting with my man. We walked down the tree-lined road outside my house, arm in arm, connected as my body began to feel more surrendered, baby and I exchanging our essences through the pulsation of the chord. Baby spoke to me of timeless wisdom, teaching me to let go, be brave and strong. "I am giving birth" I thought, "How lucky I am!" I realised that a great pouring of love was beaming out of me. I took Don's hand as we walked further into our garden, and then came that less flattering but essential need to relieve my bowels, straight into a bucket in the garden for all to see. That moment spoke to me: "Inhibition is not a requirement of birthing. Let it all go Maha, let it all goooo", I whispered to myself!
I came inside the house and instinctively I needed to be in a cosy darker space, so I went into my bedroom and played some lovely Donna Delroy chants. As some bigger contractions melted through me, I danced, softening into my pelvis. Liz came into the room and danced by my side. Together we were in harmony, no judgment, no words, an unspoken symphony ……
And so the labour progressed. Don filled the pool, Jayne sat quietly by, Katerina danced around the scene taking pictures, and beautiful Liz flowed with gentle ease- everyone calm, relaxed. Inside and outside the house, I just went wherever my body took me.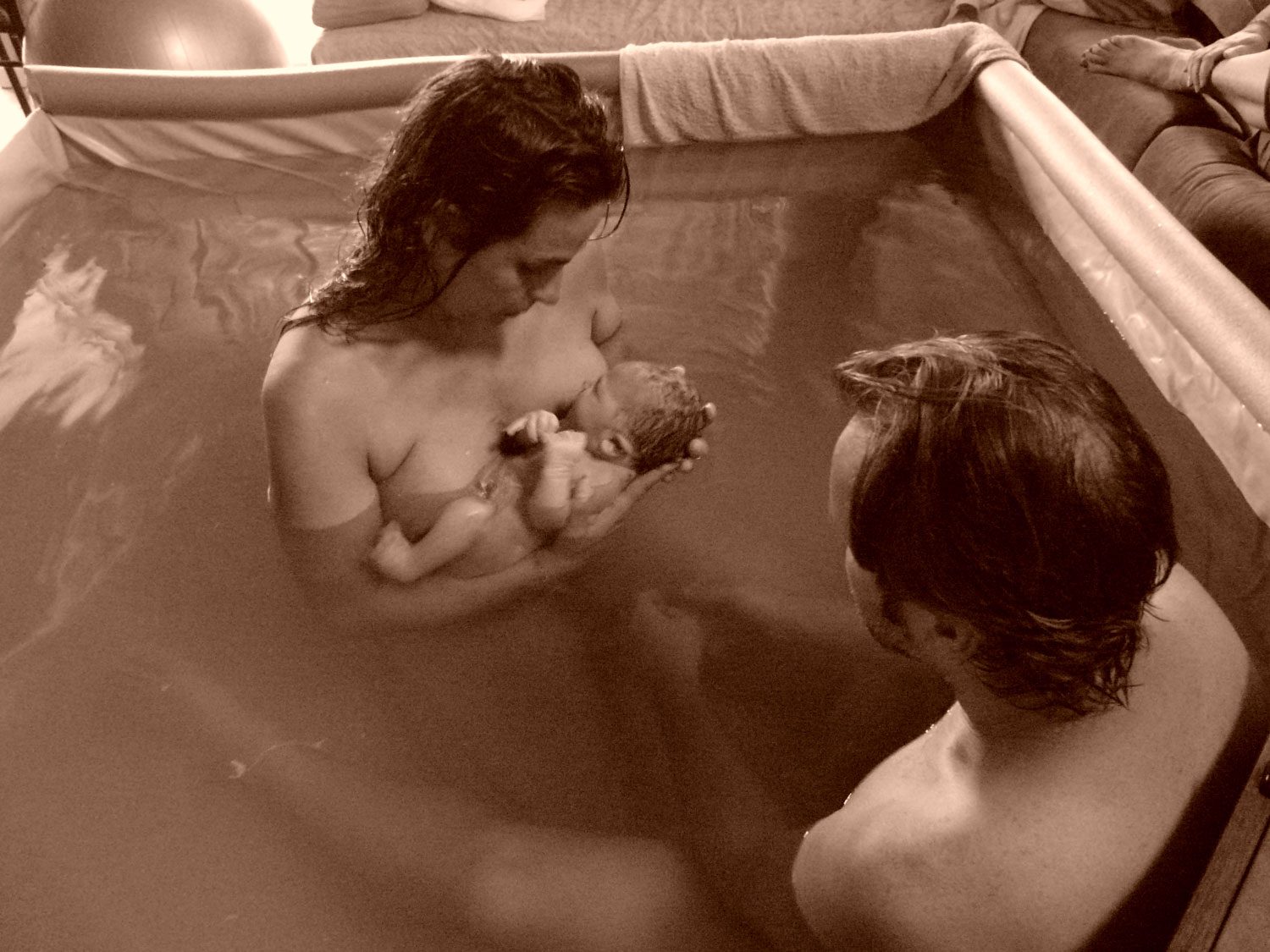 Early afternoon came and I was ready to get in and out of the pool for pain relief. I had a moment where a strong pain gripped my right side. I crouched in the water and moved rocking from side to side, breathing through the cramp-like pain. It passed. I got out of the water and wanted to lay on the couch. I had hardly lain on my side when I had to get up again and dance through another strong contraction. I remember this moment, that desire for everything