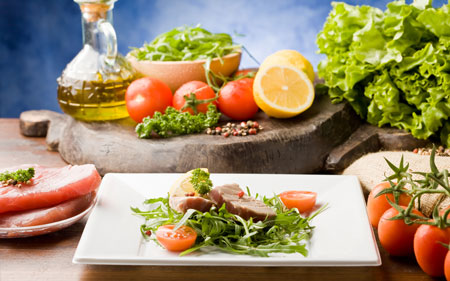 As a mother of three children under four, Raquel Bosustow, owner of Organics Only, understands the importance of eating organic food and leading a healthy lifestyle whilst pregnant and breastfeeding.
Raquel found a study conducted by the Journal of Applied Nutrition in 1993 that has proved organically grown fruit and vegetables have a higher nutritive content than conventional produce. Organic apples, wheat, corn, potatoes and peas were examined over a two year period and were 63% higher in calcium, 73% higher in iron, 118% higher in magnesium, 125% in potassium and 60% higher in zinc than conventionally grown produce. The organic produce was also 29% lower in mercury. These are all important vitamins when growing and nurturing your baby.
"When pregnant, its also important to ensure you are supplementing and eating produce to provide you with iron" says Raquel. Although, about 2/3 of the cattle that provides our meat has been treated with artificial growth hormones. The authorities have deemed these hormones as safe, however, we do know that animals are fed growth enhances and additives to make them grow faster.
It is best to choose organic meat and poultry, which are certified, as they are free from any chemical treatment.
The biggest risk to the baby is from the pesticides and herbicides in conventionally grown fruit, vegetables and meat. Children and pregnant women are most vulnerable to the affects of growth hormones.
"It's not until you start to question the "normal" food and realise that it is truly lacking the vitamins and minerals we need as pregnant women". Whilst pregnant and breastfeeding, Raquel incorporated the following food groups into her everyday diet. She chose organic where possible.
Grain Group – wholegrain breads, high fibre cereal, whole-wheat or spelt pasta, brown rice, whole-wheat crackers
Vegetable Group – dark leafy vegies (Spinach or greens), Deep yellow vegetables (squash, pumpkin and carrots), Others such as tomatoes, cabbage, capsicums, peas, beans, broccoli
Fruit Group – Oranges, strawberries, melons, mangoes, apple, banana
Dairy – Yoghurt, cheese and milk
Meat & Poultry – Chicken and Red Meat
Raquel also made the following recipes and froze them, ready to snack on, especially when the cravings hit!
Organic Chicken Soup
Prep & Cook Time: 45 minutes, Serves 8-10
500g organic chicken breasts, cut into pieces
1 litre of organic chicken broth
2 medium stalks organic celery, sliced
2 organic Carrots, sliced
1 medium organic onion, chopped
1 cup organic Peas
2 cloves garlic, finely chopped
1 tsp. dried parsley
1 tsp. dried thyme
1 bay leaf
1 cup Wide Egg Noodles
In a large soup pot over high heat, bring all ingredients except pasta to a boil. Keep soup at a low boil for about 20 minutes over medium high heat, stirring occasionally. Add pasta and return to boil. Reduce heat and cook uncovered for 10-15 minutes, stirring occasionally, until pasta and vegetables are tender. Remove and discard bay leaf. Ladle into soup bowls and serve with crunchy breadsticks or warm bread.
Organic Banana Bread – YUM!
3.5 cups of organic unbleached flour
1 tsp bicarb
3 tsp baking powder
1 tsp salt- 1.5 cups sugar
185g softened butter- 3 organic eggs (beaten)
2 Tbsp lime juice (or lemon if n/a)
3 cups mashed organic banana
3/4 cup chopped nuts or seeds (linseeds, sunflower seeds, walnuts etc.) OPTIONAL
3/4 cup sultanas (OPTIONAL)
1 Tbsp vanilla extract
Preheat oven to 190 degrees & grease 2 loaf tins. In a separate mixing bowl, sift flour, bicarb, salt & baking powder together. In the mixer, beat sugar and butter together until pale, add eggs gradually. Add flour mixture & remaining ingredients. Mix well. Spoon evenly into tins and bake for 40-45mins
To contact Organics Only phone (02) 9529 9962