My Midwifery Group Practice Experience
By Jenna Cicchillitti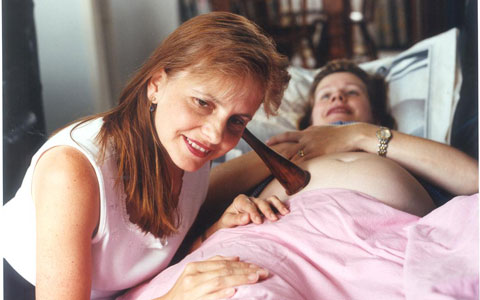 When l found out about the Midwifery Group Practice (MGP) program I was really excited. I think what excited me the most was that I would know who my midwife for my labour and birth would be. Labour and birth is a very important time and a huge event in women's lives, however women are also very vulnerable. Women put their total trust in health professionals they have never met before and who don't know them. Getting to know your midwife beforehand and developing a rapport with her so that she understands the women's needs and personality well before entering the suite so they can work together for an amazing, positive birth experience for the mum is such a fantastic asset to have.
I emailed the Bunbury MGP coordinator Kate and self-referred to be on the program. I was accepted into the program and got a call from a very special midwife, Susan, who became my midwife for all my care. Throughout the pregnancy, Susan came to my home and did all my antenatal checks. This was really convenient as I would arrange the appointment for while my daughter was sleeping. It was really great that my husband got to know Susan too. It's great when everybody already knows everybody when entering into the labour suite.
I only saw a doctor four times during my pregnancy and the rest of the appointments I saw Susan. I really loved not having to leave the house for appointments. It made our time together really relaxed and far less clinical as we were in a homely environment and could sit on the couch. The check-ups with the midwife compared with the doctor with my first pregnancy were far more holistic. Besides the routine blood pressure, fundus measurements, urine sample etc. we chatted about birth plans, positive thinking, exercise, water births, recent studies, homebirths and much more. I learnt so much from Susan. She learned my personality and what kind of person I was. She learnt what was really important to me throughout my pregnancy and labour and also those things that I didn't care about.
Knowing Susan really assisted me to prepare for a positive birth experience. I think most women just hope they get a lovely midwife on shift on the day they go into labour whereas I knew who I was getting so that was one less thing I had to worry about. I am sure that knowing your midwife so well when you go into labour can only enhance a women's birth experience as the mum trusts the midwife and can relax in that her voice has been heard and her values and wishes are well known before the big day.
I was confident they knew exactly the labour and birth l was aiming for so when I went into labour we were already all on the same page. Of course there was always the risk it wouldn't be Susan on call, it would be her co-worker Gemma, but I had some antenatal appointments with her as well so l knew them both, so either way, one of them would be there. I believe when a woman has a great rapport with the midwife it only enhances care. A great relationship enhances communication, care and trust and increases patient satisfaction. This is what the MGP program creates – great relationships and happy clients.
My first birth involved an induction of labour, Tens machine, gas, epidural and episiotomy followed by four days in hospital. I really wanted a different experience for my second birth. I wanted no induction, no pain relief or intervention and a non-medicalised experience – to totally allow my body to do what it's created to do all by itself naturally. The choice of hospital or homebirth was a great option on the program however I chose to birth in hospital this time for different reasons. My second birth was close to exactly as planned and a really great experience.
During the day I had some pre labour warning signs things may be happening soon. I was able to call Susan and chat to her about these and hear her opinion. Having Susan just a phone call or text message away was very comforting and throughout my pregnancy I could ask her questions when needed and keep her updated from my doctor's appointments. This opportunity is not available if you aren't on the MGP.
When I woke with contractions during the night, I texted Susan to let her know things were happening and I'd keep her posted. I laboured at home for most of the night with the help of my husband and doula. Throughout my labour and heading to the hospital I was so calm in knowing I was heading to Susan. She always made me feel empowered, strong and capable and was so supportive of my birth plan I knew I was heading towards someone that would continue to encourage me and support me in a totally natural labour. It's also the little things that count. We had formed a lovely relationship, so a welcoming hug from her when I arrived at the hospital enhanced all my feelings of relaxation.
We had the room dim, music on, and electric tea light candles everywhere. Susan is incredibly respectful and supportive of the natural way that women birth, so it was very reassuring knowing my desire to have an intervention free birth was going to be fully embraced.
After an hour of being at the hospital, my son, Reef, was born into water. Susan guided him through the front of my legs and my husband supported him to the surface. We sat in the water for a while so we could allow for optimal cord clamping. I had a physiological third stage which Susan is well practiced in and I felt confident in her care for me. I love that the MGP means birth is midwife led.
My doctor did not need to attend the birth at all which I really liked as it meant less interruptions during the birth and less people in the room. I had I00% trust in my midwife and wanted her to be the person leading and assisting me through labour and birth. l had two small tears from the birth and we were deciding whether to put a stitch in each tear or not. We decided not to in the end but if I had needed them, Susan would have done the stitches instead of the doctor. I also found this extremely calming as firstly its one less person looking between your legs and I knew she would be gentle.
I stayed in hospital for four hours following the birth and then went home. It didn't bother me at all going home so soon and in fact l wanted it. This is partly because it was my second child but also because I knew Susan was just a phone call away and I knew I'd be seeing her regularly for the next four weeks which made me very relaxed about going home. This was a service I did not have with my first child in the private hospital and the follow up care is longer on the program postnatally than even if I had birthed regularly at the public hospital with follow up care being for five days.
On the same day I got home, I had some large clots come out (which I didn't know was normal) and was able to call Susan and chat to her about my concerns. Gemma came out and visited me that day to make sure I was OK which was really nice as I wasn't expecting them until the next day. Already I felt so supported and cared for.
My milk came in quickly on day two, which I believe is partly contributed to me being relaxed at home and allowing bub to suckle regularly.
It was a favourite part of my day having Susan rock up at my door and then chatting about this new life I had created. Once again it was so nice having these checks at my house in a calm, homely manner. We chatted about any concerns I had and Susan always put my mind at ease, encouraged and supported me.
Reef had fantastic weight gain in the first week and was thriving. When he was one week old, he began to projectile vomit nearly all his feeds. This was monitored throughout the second week. Once he was weighed at two weeks old, we noticed he had dropped in his weight and was in fact lighter than his birth weight. Susan got straight onto phone calls while still at my house and we had spoken to a lactation consultant and then had an appointment booked with my GP for that afternoon. By the next day we had driven to Perth and were at Princess Margaret Hospital where Reef was scheduled to have an operation the next morning to correct his diagnosis of pyloric stenosis. I believe had it not been for the consistent antenatal care provided by this program, his condition would not have been picked up and dealt with as quickly as it had been.
While at the hospital, I stayed in contact with Susan and kept her updated and we would chat daily. Again, I felt so supported and cared for by her.
After a few days at the hospital we were home again. Susan came and saw us the next day and again regularly for the next couple of weeks. Reef was weighed regularly and began to pile on the weight again. In the two weeks following his operation he piled on nearly 1 kg. It was a sad day when Reef turned four weeks old and so Susan was visiting for the last time as we had built a lovely friendship that had developed over many months. I know that I will definitely go on the program again for my next child and will be aiming for a homebirth.
The MGP program is a very special program for women. I feel that words cannot express how grateful I am to have been on the program and for the wonderful continuity of care I received and the friendship formed with Susan. This birth experience would not have been the same, whether birthing publicly or privately, if I had not been on the program. I believe that a woman's mental state greatly impacts on her labour and had I not been on the MGP my mental state would not have been so relaxed and calm. I know the program is quite new to Bunbury but I am so glad it is here and recommend it to all my pregnant friends, and even strangers, as it will change their experience greatly.
Having a water birth was also extremely important to me for my second birth. All the midwives on the program can assist with waterbirths so I was very relaxed in knowing that I was able to achieve this. During my pregnancy the hospital was in the process of completing all appropriate procedures and documentation to allow for mums to bring in their own birth pool.
I pleaded with the hospital to keep the process moving so I could bring in my own pool. It managed to get signed off when I was about 35weeks gestation. I happened to be the first person to bring in my own pool and birth at the Bunbury Hospital and it was a fantastic experience. I know the program will do so well in Bunbury and would really like to see it expand with teams of midwives so many more mums are getting the opportunity to be on the program.
Originally appeared in 'Australian Midwifery News' Summer 2013. Vol 10 No 4, Pages 26-27
First published on PBB Website 6th July 2015