By Evan Fischer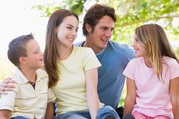 Whether the temperatures are warm and balmy or you need to bundle up to head outdoors, it's always nice to get a little exercise and enjoy the fresh air, regardless of the time of year. But if you're looking for something a little more interesting than taking the same walk around the block with the kids in tow or visiting your local park, there are all kinds of outdoor activities that can offer you the variety you're looking for (and that are suitable for the whole family). Here are just a few to help you break free of the same old routine and engineer some new fun and excitement with your spouse and kids.
Swimming. Okay, so this is really more of a summer activity than a year-round option (unless you want to take it indoors). But there's no better way to beat the summer heat than by heading to your nearest body of water and hopping in. Local pools and water parks are another great idea, especially if you're worried about smaller kids getting hauled away by a strong current. Just make sure to bring plenty of waterproof sunblock since the rays reflecting off the water can do double damage to sensitive skin.
Sports. You don't have to join a league in order to have some fun playing a game of footy or tossing around the Frisbee. Simply hit up a local used sporting goods store to find some equipment on the cheap that has already been broken in, then pack up the kids and head to a large outdoor area with your gear and a picnic lunch. You can enjoy a day of laid-back sportsmanship along with some sandwiches and lemonade.
Camping. If you want to get away for a few days and relax in natural surroundings then camping can provide you with ample opportunities for outdoor fun. You can take the kids on nature hikes and help them learn the names of plants, animals, and insects (with the help of a handy guidebook). And you might also want to partake of some fishing. At the very least you can divorce yourself from your many electronic devices for a little while in order to breathe in the fresh air and enjoy some face-time with the family.
Stargazing. Although it can definitely be fun to lie out in the lawn chairs and use your star chart and a homemade telescope to locate heavenly bodies, you might want to check with websites that list dates for celestial events. Meteor showers, planetary sightings, and comets may occur frequently throughout the year, and if you know when they are you can plan to get outside the city for a cosmic show.
Treasure hunting. Whether you plan and execute a scavenger hunt, pull out the metal detector and head to the beach, or hit up a bevy of garage sales near you, creating an outdoor adventure is as easy as finding a variety of ways to hunt for hidden treasure. The kids will no doubt get a kick out of the experience, especially since there is likely to be some kind of prize involved. And perhaps you'll find a few bucks in change or that perfect play set you've been seeking.