Once a baby is born the midwife or doctor will carefully check the placenta to ensure that no part of the placenta or membranes have remained inside the uterus. If any part of the placenta or membranes has been retained in the uterus, it can cause a postpartum haemorrhage and/or infection. The process of checking the placenta should take place as soon as possible after birth.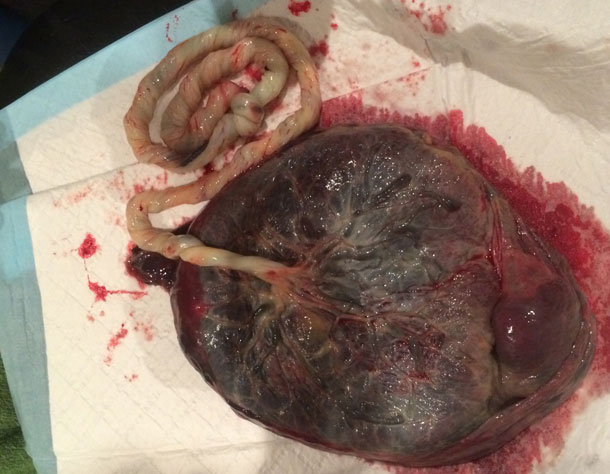 When a baby is born at full term (37 to 42 weeks) and the placenta is healthy, it will measure approximately 15 to 20 cm in diameter and will be around 2.0 to 2.5 cm thick. A placenta weighs approximately 500 to 600 grams, which is approximately one-sixth of the baby's birth weight. The size and weight of the placenta can vary considerably depending on the baby's ethnicity, whether there were any pregnancy problems and how much the baby weighed.
In the photo above you can see the baby's side of the placenta. A healthy placenta is should look shiny, grey and translucent so that you can see the colour of the underlying placental tissue.
In the photos above and below you can see the midwife examining the baby's side of the placenta to make sure that there are no obvious abnormalities. The midwife takes particular note of where the baby's umbilical cord is inserted into the placenta. In this case, the umbilical cord is inserted in the middle which is known as 'central insertion'. Sometimes the cord is inserted on the side of the placenta which is known as a 'battledore insertion'. Rarely the cord can be inserted into the membranes instead of the placenta which is called 'velamentous insertion.
In the photo below the midwife has brought the membranes around to the front so you can see the membrane sac that the baby developed in. The midwife is providing an explanation to the baby's mother about the placenta.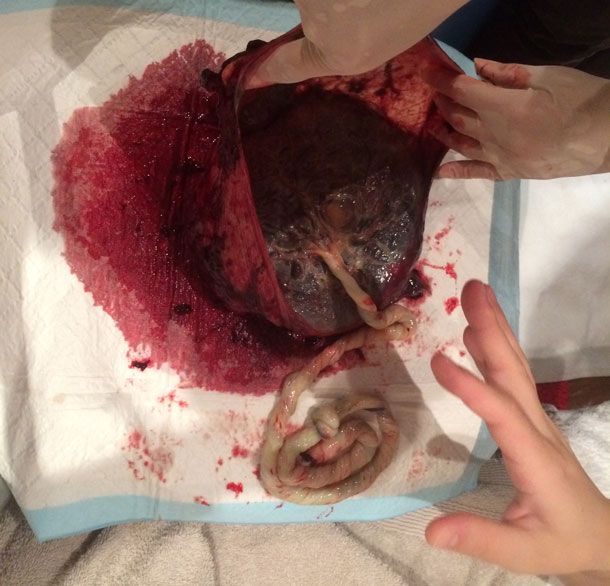 In the photo below the midwife is checking the membrane and is making sure that there are two membranes known as the amnion and chorion. The two membranes stick together and can be peeled apart.
The midwife has turned the placenta over in the photograph below and begins to examine the placenta to make sure that it is complete and that nothing has been left inside the mother.
The mother's side of the placenta should be dark maroon in colour and should consist of around 20 cotyledons (separate lobes of placental tissue). This is the side that attaches to the wall of the uterus through which the baby receives nutrients and water and by which waste products are passed back into the mother's bloodstream.