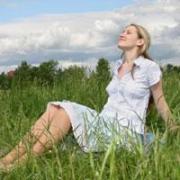 Even before you've missed a period, you may suspect – or hope – you are pregnant. Usually, the signs of early pregnancy are obvious. Nausea, a bloated tummy, period pain-like cramps, fuller breasts, and loss of sexual desire: they're all signs you may be pregnant. However, some women don't even notice they've a baby on the way. Their symptoms of pregnancy don't become obvious for weeks or even months after conception!
So, in early pregnancy you may feel very little, just a bit different, or downright terrible. But regardless of how magnificent or how bad you feel physically, there's a chance your emotions could go into overdrive. New hormones racing around your body in early pregnancy combined with looming motherhood could be responsible.
Your emotions may surprise you in early pregnancy
A few women confidently sail through pregnancy high on the thrill of it all. Or so they breezily tell you. But many women find their feelings aren't always on an even keel, especially during early pregnancy. Women in early pregnancy report all kinds of ups and downs. So if you do feel like you're on an emotional roller coast right now, it's ok – you're certainly not the first, nor will you be the last!
You might go through feeling some of the following, just try to relax and know its normal to be a bit apprehensive at the start of such a big stage of your life:
Excitement, wonder and anticipation mixed with fear and trepidation
Pride in your womanliness one minute, resentment the next
Wanting a baby but doubting your ability to be a 'good' mother
A desire for secrecy versus overwhelming urges to tell absolutely everyone you're pregnant
Loving the baby's father one day, leaving him the next. Or at least threatening to, at the top of your lungs
Grief for the loss of your 'girlhood', your career aspirations or the carefree party life of a childless woman
Admiration for your 'baby bump' and swelling breasts underwritten by worry about how your body is going look post-birth
Crying over sad stories or pictures of babies and mothers, human or otherwise
In early pregnancy, as your body gets busy with the business of growing a baby, you could also find yourself worried with all kinds of new thoughts, and even having strange dreams about birth, babies and breastfeeding. It helps to be familiar with the symptoms of early pregnancy and to understand that the pregnancy hormones may be at least partly responsible for what you're thinking and dreaming about.
---
This article has been supplied by Huggies.com.au, one of Australia's leading pregnancy and baby care information websites. Huggies have recently developed a Pregnancy Week by Week Guide, this tool will take you right from week 1 of your pregnancy through to week 42. Each week brings new changes to your body, what is changing for your baby and even a diagram of how your baby looks at this stage. Huggies also brings you a new yoga move for each week of your pregnancy to help you stay fit and healthy during this wonderful stage of your life.