By Wendy Mackay
One of the basics of rules of aromatherapy is that essential oils must be diluted to be applied to the skin. Making your own massage oil can be a wonderful way of using essential oils. Massage oils can also be used as body oils, as a way of moisturising and protecting your skin in a similar way to a body lotion.
When making your oil you will need
A bottle to make and store your completed oil
Carrier Oil or oils
Essential oil or oils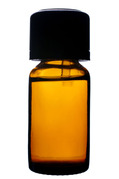 You should ideally choose a glass bottle. You can have a plain cap or some people like to use a pump top for ease in dispensing. Make sure you choose an oil that is safe to use in pregnancy (it is wise to consult an aromatherapist).
When choosing your carrier oils bear in mind the properties of the oils and your skin type (or the skin type of the person you are making it for). To start with I usually recommend using a plain grape seed or sweet almond oil. As you experiment you may like to use a combination of vegetables and infused oils to enrich your basic oil blend.
When choosing your essential oils, consider the effect you want the oil to have and when you intend to use it. Are you planning on a light fresh aroma to use as a body oil after your morning shower? An invigorating oil to massage into muscles before or after sport? Or you may want a sensual massage oil to share with a special someone!
The method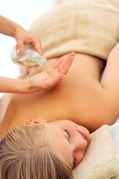 To make your oil blend, take your bottle and place in it up to 4 drops of essential oil for every 10ml of carrier oil you will be using. So in a 50ml bottle use up to 20 drops in total of essential oil, in a 100ml bottle use up to 40 drops. For a massage oil for children or anyone whose health is frail or who has sensitive skin, halve this number. Remember you can use 2 or 3 different essential oils in your blend but the total number of drops should together not exceed that stated.
Top up your bottle with your chosen carrier oil to the shoulder – this is the part where the bottle just begins to narrow. Put on the cap and shake gently or tip the bottle back and forth to mix the oils together.
Labelling
And don't forget to label your creation! Information to note includes the date, the name of the person the oil is for and the purpose of the oil, together with the ingredients. This way you can easily reproduce your blend.
Some recipes to get you started
Stretch Mark Prevention Oil
50 ml Apricot Kernel Oil
40ml Sweet Almond Oil
10ml Wheatgerm Oil
7 drops Lavender Essential Oil
10 drops Mandarin Essential Oil
3 drops Frankincense Essential Oil
Mix in a dark glass bottle and apply daily from breast down over the abdomen hips and thighs.
Labour Massage Oil
100ml Sweet Almond Oil
8 drops Lavender Essential Oil
8 drops Clary Sage Essential Oil
2 drops Roman Chamomile Essential Oil
2 drops Ylang Ylang Essential Oil
Mix in a dark glass bottle and use during labour for massage, especially the lower back area.
(This information is meant as general advice.  Please consult your health practitioner or a qualified aromatherapist for advice on your specific situation.)
Wendy Mackay is a qualified Aromatherapist and member of the International Aromatherapy and Aromatic Medicine Association (IAAMA). Wendy and her husband David run Essence of Wellbeing a successful Aromatherapy & Massage Supply and Pure Natural Skin Care business, based in Mornington on the beautiful Mornington Peninsula in Victoria Australia. To find out more visit Essence of Wellbeing.