By Hannah Dahlen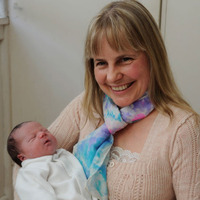 "Don't give up trying to find your way. But do remember that sometimes it takes bending to avoid breaking" (Katinka Hesselink).
In my last Presidents Report I wrote about being in the back of the proverbial car moving towards our destination calling out, are we there yet? On November 1st 2010 we reached one of our destinations, spilt clamouring from the car and experienced the predicted excitement, frustration, fear, longing, dreaming, disillusionment and the reality of a dream that began many years ago.
Looking back over 24 years
Back in 1986 (24 years ago) the Medicare Benefits Review Committee produced a report in response to a review of Medicare commissioned by the Minister for Health, Neal Blewett in 1984. The terms of reference given to the committee were, "to consider and make recommendations on whether the current scope of Medicare arrangements should be extended to provide benefits for certain paramedical services." It probably does not surprise you to know that midwives and women made submissions for midwifery services to be included in the Medicare Benefits Schedule. Submissions concerning midwifery were received from the National Midwives Association (now the ACM) as well as other professional organisations such as the Royal Australian Nursing federation (now the ANF), homebirth groups such as Homebirth Australia and 'numerous private individuals.' In fact the report goes on to state:
Of the many medical and pramedical issues raised with this Committee, the question of the payment of Medicare benefits for services for services provided by registered midwives generated the greatest depth of feeling and strongest organised support (25% of the paramedical submissions addressed midwifery and parenting). For some women the issue is strongly felt.
If this is sounding very familiar you are probably recollecting the more than 20 reports and reviews into maternity services over the past 20 years, where access to Medicare for midwifery services is a common theme. In 1998 the NHMRC Review of Services offered by Midwives recommended ordering and prescribing rights for midwives. In February 2009 the Improving Maternity Services in Australia – The Report of the Maternity Services Review (MSR) was released, with the personal stories of women making up 407 of the more than 900 submissions received. Once again the numbers of submissions were overwhelming. This time we won some ground, though most certainly not all we had hoped for. The lack of insurance and access to Medicare for intrapartum care at home continues to be a major deficit in these reforms. The introduction of the dreaded Determination in July this year, tying midwives to collaborative arrangements with doctors in order to gain access to Medicare, is a major concern. Health reform is often frustratingly slow and we also have to deal with the reality that we don't rank that highly in the scheme of things or have that enormous pulling power that other health services, such as mental health has. Progress is often frustratingly slow. In New Zealand it took them 17 years to get a National Access Agreement and they had many little steps along the way to achieve the final outcome.
The Determination
The Determination – known as the National Health Collaborative Arrangements for Midwives – is not a good piece of legislation and the Australian College of Midwives has fought in every way possible to have it changed. We have received some concessions now from the Minister that take us away from sign off by an individual doctor and these include being able to have clinical privileging with a hospital (the old visiting rights) as a collaborative agreement. The National Maternity Plan, which is the most midwife friendly plan I have ever seen, contains an evaluative framework for the uptake of the Eligible midwife, along with commitment to State and Territory clinical privileging, which is rolling out now. This means we can keep a very close eye on where it is working and where it is not. We continue regular dialogue with DOHA and the Health Minister Nicola Roxon on this issue.
The Health Minister has promised us (ACM) and the ANF that she would change the Determination if is not working but this would not happen in the first months of roll out which is why we made the decision not to continue to fight for the Determination to be disallowed. The idea of disallowing the Determination and dragging out the debate until next year could have backfired on us. If it did drag on until next year Midwives could have started accessing Medicare and have women booked and it could all fall over and these women and midwives would be left stranded. We could loose access to Medicare and possibly wait a long time before another health minister was brave enough to take it on. The Health Minister has made it clear to us and the Greens – who have been great allies in this fight – that she will not change or put up a new Determination if it is disallowed. The ACM Board of Directors sought legal advice over the best way to approach this, as we desperately want to do the right thing for women and midwives. We received clear advice that "disallowance is not the appropriate means by which to seek amendments of the Determination" and it is highly risky with current volatile coalition who are willing to say NO to everything not because they care about midwifery but just want to say NO.
There are many midwives in the College that have fought for access to Medicare for over twenty years now and the College cannot let this be lost at the last moment. We made the decision to take a foot in the door approach and change from within access to Medicare rather than from without. While this not a good piece of legislation by any stretch of the imagination, you rarely get everything you want the first time in reform. We believe there are enough ways we can make this work and then hold the government to account for changes when it does not. The AMA have also been told the same thing by the Minister very clearly, and I quote, "If we do not embrace these changes then pressure will mount on the Government to relax the requirement for collaborative arrangements to be in place" (Andrew Pesce AMA President).
It is important to note that the Determination DOES NOT AFFECT ALL midwives, only those who choose to become eligible midwives and want to access Medicare. It is also important to note that the Determination has been removed from the Quality and Safety Framework after much protesting on ACM's part, so it does not have to impact on homebirth midwives not seeking access to Medicare. It is also important to note that even the MIGA insurance policy