by Linda Robertson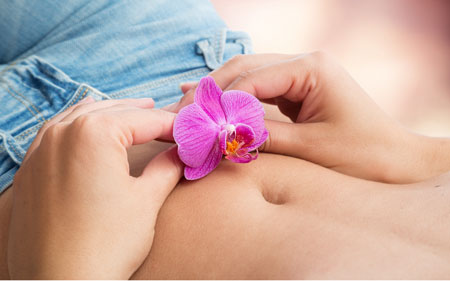 Our story of infertility started in 2001.  My husband (Jim) and I had been married for nearly four years and decided that we were now ready to embark on the journey into parent-hood.
Jim and I had always wanted to have a family (like most couples) but as young newly-weds we knew we were not yet ready to deal with the huge responsibility that parent-hood involved.
I decided at a young age that I wanted to have a family of my own and often thought about how exciting being pregnant must be.  I don't know whether it was because it was something I really wanted, but I had a fear that I would not be able to get pregnant.  But after spending years taking precautions against pregnancy, when the time came for us to start trying for a family, I was so excited that I never gave my childhood fears a thought.  The prospect of finally embarking on such a miraculous and rewarding experience was overwhelming.
Unfortunately Jim and I were soon to find our morale and excitement deteriorate when after 12 months we had still not been able to get pregnant.  No one knew that we were trying for a family and we had been looking forward to surprising our family and friends with our good news, but we decided to tell them as we now felt we needed their support.  We were given all sorts of advice from family, friends and our GP.  I started charting my basal temperature, I moved into a less stressful job, I had kinesiology and reflexology and of course we "tried not to think about it!"
In March 2003 our GP referred us to the Gynaecology Outpatients Department of our local hospital.  Over the next 8 months I underwent abdominal examinations, numerous blood tests, vaginal swabs, a HyCoSy examination and coital test.  It was a very testing time and the waiting period between each appointment appeared to drag on for eternity.
At the end of 2003 Jim and I felt the need to take control of other areas of our life and strive to achieve our other ambitions.  We had been talking about emigrating to Australia for a while and decided to take the opportunity to go and travel around Australia and New Zealand for 3 months, to which everyone, even our Doctor, replied "Maybe you'll come back pregnant" – no pressure there then!
On our return from our travels down under it took several months, yet again, before we were given our next hospital appointment, at which more blood tests were carried out and I was put on the waiting list for a laparoscopy and hydrotubation test (an exploratory operation of the pelvic cavity carried out under general anaesthetic).  The laparoscopy test was eventually carried out in July 2004.
We had our final hospital consultation in October 2004 in which the Doctor confirmed that having carried out all possible investigations they had not found any abnormalities and that he was referring us for In-vitro Fertilization (IVF) treatment under the category of 'unexplained infertility'.
The Doctor asked how Jim and I felt about IVF treatment and I remember replying "It would be nice if we could fall pregnant naturally, but we are willing to try anything" to which the Doctor replied "Well, you will have plenty of time to keep trying as there is a two year waiting list for IVF."  Our hearts hit the floor with full force at this news.  We had not been advised at any stage that the waiting list for IVF was that long.
Jim and I made enquiries and found that we were able to pay privately for an IVF cycle whilst remaining on the waiting list for our one 'free' NHS paid cycle; therefore we commenced our first emotional rollercoaster ride of IVF treatment in January 2005.
IVF treatment involves using a nasal spray every 12 hours throughout (approx 5 weeks); attending for regular blood tests and a daily injection (self-administered) for two weeks (to stimulate the ovaries to produce multiple mature follicles).  Once commencing the injections regular blood tests and inter-vaginal scans are carried out to check hormone levels and that the ovaries are responding to the medication.  Once the follicles are of the correct size, an additional injection is given to help mature the follicles prior to egg collection.  Egg collection involves day surgery whereby each follicle is aspirated and the egg within collected to be fertilized.
Luckily the IVF treatment went according to plan, however the hardest part was yet to come – playing the 'waiting game', where each day feels like a week and each hour like a full day. After we had undergone the egg collection we had to wait until the next evening to find out if any eggs had fertilized successfully.  We then had to wait a further 2 days to find out if the fertilization process had continued and if there were any 'blastocyst' stage embryos to transfer back into my uterus.  Thankfully there was and we attended the clinic to have two embryos transferred.  Following the transfer we then had to wait an agonising two weeks until the pregnancy test.
Success….we had a positive pregnancy test on the 8th March 2005.  We then, however, had to wait a further excruciating 3 weeks until our 7 week pregnancy scan at which we were relieved to see a fetal heart beat present.  Unfortunately it was not to be long before our hopes were to be shattered.   When attending our local hospital for our 12 week scan we were to be told that the pregnancy had not continued developing and there was no longer a heart beat.  We had been so excited at the prospect of  leaving the hospital with a picture of our beautiful 12 week old fetus that I could not believe that in fact not only did we not get that picture, but we were to leave knowing that our baby was no longer alive.  I am not able to put into words how Jim and I felt at this time. It was to be another two weeks before I miscarried.
So it was back to waiting our turn on the waiting list rather than pay another £3,000 privately.  So we yet again tried to concentrate on other ambitions.  Jim was invited to apply for a job within South Australia and I had already commenced a college course to enhance my chances of achieving my dream job and obtaining a place on the Bachelor of Midwifery degree course.
In September 2005 Jim had his job offer confirmed and was invited to take up his new position in South Australia on 1st December 2005, so it was 'all hands to the deck' preparing for our departure from the UK with only 11 weeks notice.  This did however mean that we had to forfeit our free IVF cycle.
On arriving in Adelaide my priorities were to complete my UCAS application form for a place on the Bachelor of Midwifery degree course and to obtain a referral for further fertility treatment.  To my utmost delight my application to university was successful AND we were informed that not only was there no waiting list for treatment at the Reproductive Clinic, but that the overall costs involved were significantly less than in the UK.
In March 2006 we commenced the less-invasive treatment of Intra-Uterine Insemination (IUI).
This treatment involves daily self-administered injections (to stimulate the ovaries to produce follicles); regular blood tests to check hormone levels and scans to check the number of follicles.  A further injection is then given to promote ovulation and semen is then placed into the uterus at the time of ovulation.  Further injections are then needed to help maintain the lining of the womb and improve the chance of implantation. Unfortunatel