by Stephanie Azri
Stephanie recounts her story as mother expecting a child with a fatal condition (Potter's Syndrome). Stephanie shares her journey to help other families in a similiar situation and offers them practical support.
Talina's story
My husband and I had decided to have another baby with the other two we had. This was just before Christmas 2001. I remember taking my temperature and telling my husband the 'day' would be January 8. Indeed it was, and I waited a couple of weeks before doing a pregnancy test at my doctor's. I remember having mixed feelings, thinking I should have been happier. It was as if something wasn't quite right but I couldn't pinpoint what.

I was really excited to have the 18-week scan done. Our main concern was to decide whether or not we should ask the sex of the baby. Today, I realize that no scans are ever that simple.  I had three different doctors looking at the baby, and I assumed they were not very good at working their machines. It never occurred to me that my baby could be sick. No, not my baby, I was a healthy 25-year-old with two previous perfect pregnancies; how could anything be wrong with my baby? I remember sitting in a small office wondering what kind of problems my baby could have? An extra finger? Down syndrome? What kind of operation would she need?
The doctor was really sorry and announced that my baby had multicystic kidneys (Potter's Sydnrome) and would die at birth, if she even survived until then. Then, I don't really remember what happened. I know I saw at least three other doctors who all told me different things and was given many choices but I left knowing I had to come back the next day to see a genetic counsellor and discuss a termination.
The next night was endless. Nobody could understand what the big' fuss' was about.' It was only a foetus; an abortion was the best thing to do for all of us. We could try again; we had other children…' I was devastated. My baby was alive and I loved her and the thoughts of terminating the pregnancy were very traumatic as it brought in a sense of guilt and confusion.
In 2002, they didn't have specific support groups for women who receive a Prenatal Diagnosis and so without further support, I decided to let nature take its course and decided to go on with the pregnancy. The pregnancy was happy enough. We told our children that the baby was sick, that her body was broken but that her spirit was really happy and special and that she would go and live with Jesus in Heaven. They seemed content with that. I had scans and different things every couple of weeks. I had been warned that the baby would be fine until 30 weeks and that it might be a little more complicated then, as she was breech and had no fluid around her at all.
On August 11, I started having contractions and visited a GP who reassured me that I was not in Labour. On August 13 early in the morning and after two days of constant contractions, I had decided that, labour or not, I was going to the hospital that day as the pains were becoming unbearable. My husband still left for work as we were so convinced that the baby wasn't coming for another four weeks. I remember sitting on my computer chair feeling really frustrated, I couldn't figure out why I was in so much pain, and why I felt so much pelvic pressure (today, I don't blame anyone for wondering if I am 'normal'. I myself can't understand how I did not guess after having had two other babies!)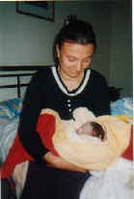 Ten minutes later, Talina was born in my bathroom. It was the most memorable moment of my life. I delivered my baby myself. I wrapped her in a towel. Talina lived for an hour and a half before she fell asleep in my arms. She didn't look in pain, she looked peaceful. She spent the next 48 hours at home with her family. On Friday night, everybody made comments like 'it's over now'; and 'you can move on' but really this was when the nightmare started. She was gone! Suddenly it hit me, I had lost a child.

Any parent who has lost a child will relate to how I felt later. Between uncontrollable tears, through to trying to grasp some air, I watched a piece of me die forever. Being the mother of a dead child was, and still is, very difficult. It feels as if nobody understands and some of their comments, which surely are meant to be helpful, can be very insensitive. I found strength in talking to other bereaved parents and continue to include Talina in the number of children I have had.
Phoenix John Azri was born on April 2 2004, a miracle in my life. He picked me up when I thought my life would never truly be happy again. I looked at him and I saw happiness, I saw hope, innocence and pure love. I held him and I felt free, I smelt him and I knew everything would be okay. He was the perfect baby, the perfect symbol of 'recovery' for me if there is such a thing. Many times when I look at him, I see her and when he does something new, I wonder what it would have been…I desperately attempted to have another girl, however gave birth to two more sons, Jett and Noah, in 2006 and 2008.
I decided to address some of the gaps in the field of genetic and congenital losses and ended up writing and publishing a book for women who receive a prenatal diagnosis. The book is called "High risk pregnancy and foetal diagnosis; your journey" published by Free Association Books in 2006. The book is the only Australian book available on the topic aimed at families and one of the only books in the world discussing both choices of pregnancy options objectively and warmly.  I am now doing my PhD in this area and continue to research and publish on the needs of families after a prenatal diagnosis. Those are all achievements in my little girl's memory.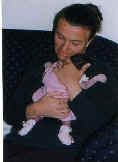 Talina has been and gone for over 8 years now, but I will forever remember the innocence and security lost, as well as the learning journey and the positive transformation into the people we have become. I will never be grateful for my daughter's death but I am sure grateful for what it has taught me and how it has changed me. Talina will for ever be my third child; my precious little girl and I will not forget.
Prenatal Diagnosis Support (56 KB)
Image Gallery