2008
The Rudd Government said that they were committed to improving maternity services for Australian women.  Minister Nicola Roxon (Minister for Health and Aging) conducted a Maternity Services Review asking for public input into how the maternity services could be improved.  It was hoped that this review would allow Medicare and professional indemnity (PI) insurance for private midwives.
Feb 2009
The recommendations from the Maternity Services Review were made public.  Despite an overwhelming 56% of submissions advocating for more affordable homebirth options, the recommendations ignored these submissions
On 1st July 2010, all health care professionals will come under the national registration scheme for which they have to demonstrate they have PI insurance whenever they practice. All health professionals, with the exception of private practice midwives, are able to purchase such insurance or are covered by their employer. In 2001 midwives were no longer able to purchase PI insurance as they were not considered a financially viable group by insurance companies. Without insurance, a private midwife attending a homebirth after 1st July 2010 would be outside the conditions of their registration.  The recommendations of the Maternity Service Review (above) had said that homebirths would not be funded or insured and the intersection of the national registration scheme and the national maternity reforms meant that registered midwives could not provide homebirth care without being deregistered.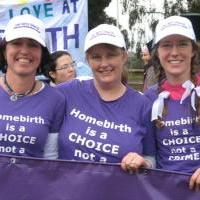 April 2009
Save Birth Choices website was started by myself and some passionate women in my area.  We also coordinated visits to local federal members of parliament for Sydney residents and later extended our support to other states.
July 2009
A Senate Inquiry was held into the bills before parliament that would effectively outlaw private midwives attending homebirths.  Nearly 2000 submissions were received for this inquiry which was outstanding.  The findings of the inquiry was that though private midwives would have difficulty in attending a homebirth as a registered practitioner this was an "unintentional consequence" of the new registration system.  The Senate recommended passing the midwifery bills which were unrelated to the national registration scheme in law.
In July one of my midwifery clients was filmed giving birth at home.  This coverage was later put to air for Sunday Night on Channel 7 – the first prime time segment dedicated to this cause.
September 2009
Homebirth Australia hosted a rally at Parliament House in Canberra.  On a freezing cold, raining day over 3000 women, men and children turned out on the lawn of Parliament to protest the proposed changes to homebirth.  The turn-out far exceeded expectations.  It was phenominal. See my YouTube channel for footage of the rally and photographs in the image gallery below.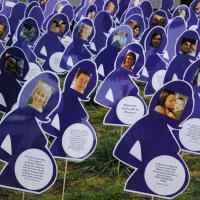 Our Save Birth Choices group coordinated the virtual rally tickets which were a sea of purple ladies all purchased and representing people that would like to have been there but couldn't be.
Two days prior to the Homebirth Rally Nicola Roxon announced a 2 year exemption for private midwives to carry professional indemnity insurance if they attend homebirths.  The result being that homebirths with a registered private midwife in attendance can continue up until 30th June 2012 (under conditions which were not outlined).
November 2009
The Government announced that for midwives to work in private practice they must work in "collaborative arrangements" with doctors. Although these "collaborative arrangements" were only for care covered by Medicare, therefore excluding homebirth – there was grave concern that the 2-year exemption may also be impacted.  Doctors (who are not mandated to enter agreements) had the right to veto the decisions of the mother and midwife and could withdraw collaborative arrangements at any point.  At one stage this amendment also impacted the government's indemnity package attached to Medicare which would have meant that withdrawing from the arrangement could render a midwife uninsured impacting her registration.  However, the government quickly withdraw the requirement for "collaborative arrangements" to register just leaving it impacting which midwives would have access to Medicare.
There held outside MP's offices in Sydney, Brisbane and Melbourne.  The Brisbane rally outside Kevin Rudd's office made the news.
December 2009
Yet another Senate Inquiry was announced, to investigate the amendment to the Medicare bill going through parliament  that requires a "collaborative arrangement" by a midwife with a medical practitioner.  Again over 2000 submissions were received, demonstrating the passion of consumers and midwives. The Department of Health and Aging stated that a "collaborative arrangement" may not be a signed agreement between doctors and midwives but they did not provide other examples.
In late December the first draft of the conditions around the homebirth exemption was released by Vic Health who are in charge of that process.  These conditions also mandated a signed collaborative letter between doctors and midwives.  Effectively this arrangement would give doctors the power to decide where a woman gives birth.
February 2010
The Senate Inquiry recommendations were released.  The finding of the inquiry is that midwives will require a "collaborative arrangement" with a medical practitioner to access Medicare Benefits Scheme (MBS) and the Pharmaceutical Benefits Scheme (PSB) but not the Midwife Professional Indemnity (Commonwealth Contribution) Scheme being sought by the government.  The definition of a "collaborative arrangement" has not been provided yet.  It may be a written agreement signed by the doctor and midwife, but it may not be.  Midwives and women wanting homebirth care after July 1 are awaiting the definition in Federal parliament in the coming weeks.
On the 18th of February people from all different backgrounds gathered in 15 locations across Aust