Danielle is married and has two beautiful daughters, 3 yr old Georgia and 6 week old Elise. This is the pregnancy and birth story of Danielle's daughter Elise.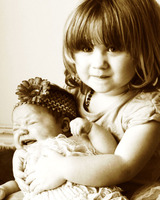 Relaxed, calm child birth… surely after having a child before and thinking I knew what I was in for, means I could be ready for it, and be able to have that…apparently, I had absolutely no idea what I was in for. My first birth was reasonably short at 7.5 hours and not induced, but my daughter was early and quite small so I assumed I would have at least as much time this go around. I was prepared also for early birth, I had my plan:
Confirm with my obstetrician that birth was probably imminent.
Do some walking, chill out at home with my family, keeping it all calm and low key.
Head in to hospital when my contractions hit 5 minutes apart.
Have a nice normal natural birth.
Now, this is what really happened…
My Eldest daughter turned 3 on the 9th of Feb. and as it fell on a Thursday we decided to have a party for her on the Saturday, the 11th. So we held the party at our complex pool and bbq area, we get finished at around 2 and start to tidy up and head back to our unit. By the time we are done tidying and putting everything away, my 36 weeks pregnant self was exhausted. My husband put our daughter to sleep and at 3:30pm we laid down for a nanny nap.
About 4pm I had just dozed off when I felt the unmistakeable rubbery snap of my water breaking, but, no water???? I got out of bed and stood up, but still no leakage, so I assumed I had imagined it or that the baby had kicked me in a weird way. So I laid down and tried to go sleep, only to get a massive contraction. After 10 minutes I got another one so decided to go for a relaxing warm shower. I went to sit up and my water decided to make a rather large appearance. (thank goodness for the absorbent bed wetting pad I put on my side of the bed a couple of weeks earlier) my contractions went from ten minutes apart to 3 minutes apart in the space of the half hour it took me to make some calls, have a shower and strip the bed. It was then I realise that my calm and relaxed birth was, quite simply, going the way of the dodo.
I told my husband that we were going to have to go to the Hospital sooner rather than later. My mother works here in Cairns but goes home to the Tablelands on weekends, and had actually left only 2 hours before I went into labour. We had organised her to watch our 3 year old when we went to the hospital, we now had to ring her and say it was happening and come now!!! I was now in the car and getting contractions 90 seconds apart! We knew she wouldn't make it! While calling another family friend to meet us at the hospital my contractions started coming 1 minute apart, (fun conversation).
We get to the hospital, and finally up to birth suite, and thank goodness I'd rung ahead because my OB's office had not sent through my paperwork and they had no idea who I was. We got into a room at the birthing suite at 5:04pm. As my placenta had been low and they didn't have my paperwork they decided to bring in the portable ultrasound machine and check that despite my affirmation to the fact it had moved, they dug it in to my contracting belly. (unfun). Finally it is discovered that I am a private patient in the public hospital and it is all cleared up. I am then checked to see how dilated I am and being at the 9cm mark it is starting to get serious and I can feel her starting to crown.
It is, at this point now 5:30pm my contractions are flat out being 20 seconds apart, and I am beginning to push, and my Dr is away so we are waiting for the Dr on call. She finally appears and after watching one contraction says, "Ok, she's coming on your next contraction so here's what I want you to do" Talk about the nick of time… 10 more minutes of pushing and my beautiful baby girl is born, at 5:46pm, posterior of course.  1 hour and 46 minutes, 2.8 kilos with a shock of dark hair, just beautiful and worth it all. But I think if I go back for round 3 I will have to move closer to the hospital, and add home birth preparations to my plan!